Give People Something to Believe in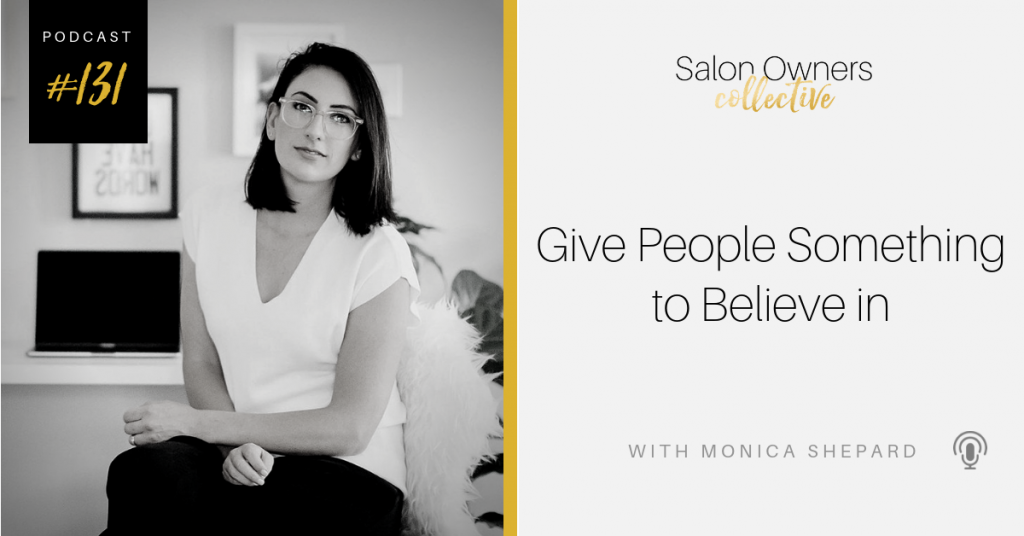 Do you ever wonder, "how can I set myself apart from all of the other Salons & Spas out there?"
You know that your brand rocks and that you'd be the perfect fit for so many people… so how can you tell people that?
The answer? People don't want goods and services, they want something to believe in.
In this episode of the podcast, I'm chatting with Monica Shepard. Monica's business 'Mark My Words' is a copywriting company who believes in bringing brands to life through storytelling.
I know that it can be so tempting to write on your website and Facebook page all about how good you are at seamlessly blended foils, and how you are the experts at balayage. But at the end of the day, every other Salon is saying exactly the same thing!
People want to know what you can do for them, and what makes you different from every other similar business out there!
It is your individual story that makes you different from everyone else. So tell people about that! Monica believes that we need to create a sense of experience through the way we write about our businesses.
We will chat about how to make your customer the hero of your story, and how you can tell people why they should choose you. Sometimes, we can be so focussed on booking clients that we forget about what is actually like to be a client.
In this episode, you'll learn about:
How to bring your brand to life with words
Ways to set yourself apart from other salons
Making your customer the hero of your story
How to avoid writer's block
Understanding your 'why'
Recommended Links
CLICK HERE to check out Paul Smith's Lead With a Story
CLICK HERE for Monica's Website
CLICK HERE to see Mark My Words on Instagram
CLICK HERE to check out Larissa's Full Immersion Program
CLICK HERE to sign up for the Freedom & Profit Hub