Grow Your Salon, Your Team & Your Profit.

The Salon Mastery Coaching Program creates Profitable
& Successful Salon Owners.
Discover the proven Salon Mastery 9-Part Plan to
grow your Salon without sacrificing your freedom & sanity.
No more winging it!
Apply for a Strategy Call now with a Salon Mastery Specialist below.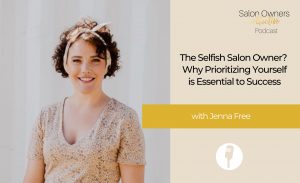 Tired of feeling like you're working so hard on your Salon business… with little to no reward?
You're constantly hustling, but you never feel satisfied.
Maybe you spend every waking moment thinking about your Salon, and how to "make things better". You're always looking towards the next goalpost, but not actually enjoying the present moment. Who's guilty?
If you're feeling burned out with your business, and life, then you need something to steer you in the right direction.
Think of it as some essential self-care, a time to think about YOU and put actions into place to bring you more happiness in your life… rather than burnout.
Because a lot of owners mistake the mistake of putting themselves last… and I don't want that for you.
In this episode, I want to introduce you to Jenna Free. Jenna is a therapist for entrepreneurs like yourself. Jenna and I discuss how to find happiness in your business that doesn't require you to work more hours in the salon or hire new team members. How to find happiness that actually starts from within YOU.
Continue Reading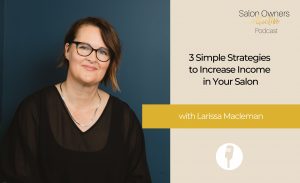 As a Salon Owner, there are many tasks & responsibilities that rely on you to ensure your Salon runs smoothly. 
Between hiring and managing your team, putting out fires and team dramas, paying bills, managing stock, knowing your clientele, sales & marketing…the list goes on and on. 
You are a master of juggling a million different hats on a good day! 
But I believe that the ONE purpose which sits at the root of everything you do, as Salon CEO, is spending your time focusing on Income Generating Activities – or what I call IGAs. 
Every time a client walks into your Salon, there is an additional income-generating opportunity for the clients in your chair, and all it takes is a small investment of your time. 
Keep listening to discover the 3 most important IGAs that will not only drive new clients to your Salon but will ensure the clients you do have, continue to spend more each visit. Hello, sales! 
Think of it as your lottery ticket to running a successful, profitable Salon.
Continue Reading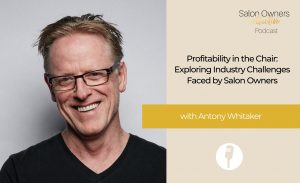 You want your Salon to be successful and profitable so that you, the Salon Owner, can truly live the life you have always wanted…
To come and go as you please, to not work 60+ hours a week on the Salon floor, to spend more time with your family, to have a LIFE outside of your business…
Profit = freedom…
But the mistake I see so many owners making when it comes to profit is that they either:
Bury their heads in the sand when it comes to making financial decisions so they delegate to their accountant. 
Follow the same broken business model as their previous employment (you only know what you know!)
Wing it and are confused about where the profit is…their team is growing, sales are up, but yet there is nothing to show for it…
This is an industry-wide mistake! 
Heck, even I was there at some point in my Salon Ownership journey….you started your salon because of how much you love the craft, not because you are a mathematician! 
But instead, I want Salon Owners to feel empowered by their numbers, and understand how to implement a successful financial business model so that they can survive…because without this, the numbers will destroy your business. 
In this episode, I have Antony Whitaker joining me. Antony is no stranger to the Salon Owners Collective Podcast, founder of Grow My Salon, Antony is an educator and motivator, with a worldwide reputation based on more than 30 years of experience in the hairdressing industry
Antony and I discuss 3 industry challenges that we see Salon Owners face when it comes to growing a profitable business, and how to transition from working 40+ hours a week to cutting back without losing any income…
Continue Reading
Salon Owners Collective Blog
The Secret to Working Less Hours in the Salon (That Nobody Talks About) …and the reality is that your business can feel like it's your entire life. Without it, who would you be?  You spend more hours in the day in your business than you see your partner, family, or friends. And whilst this…
Read the full article