6 Business Tips from Artist to the Stars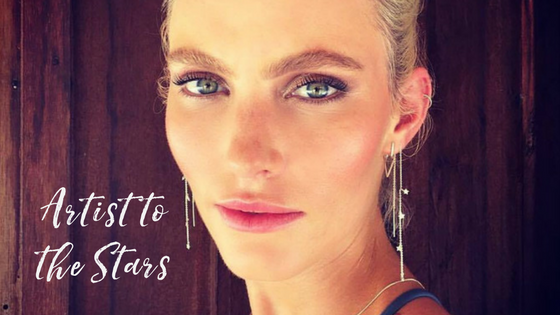 Finding your Area of Expertise, your signature service is vital to ensure your business stands out in an overly crowded space, and few have done this better than Jazz Pampling.
Jazz is a world-renowned Brow Artist specialising in brow shaping, and has worked with celebrities such as Paula Abdul, Naomi Watts, Aussie model Samantha Harris and Aussie Singer Jessica Mauboy.
She's based in Sydney, and has just opened a new studio and expanded her team, taking her business to the next level. She started out as a makeup artist, then luck allowed her to sit in on a week long course with Rae Morris which led her to train then specialise in brows.
She has truly become known in her niche and travelled around Australia & the world with her business, working with clients and training beauticians and makeup artist both privately and group courses.
I chatted with Jazz about her secrets to her success and how she stood out from the rest - she shares some real gold which I've share in this blog, but her real energy is shared in the podcast - catch it here:
Put your clients first
Never compromise quantity for quality. It might mean that your business grows a bit more slowly, but giving your clients that extra care and attention will reap the rewards in the long run.
Collaboration & Community
Without really realising it at the time, Jaz built her business through connecting with her wider community in the hair, beauty & makeup artists circles and making the most of the collaborative opportunities as they came to her. Once you find your niche, look to connect with people in complementary industries who can help to drive your business forward and you can both win from the relationship.
Push through the doubts
Feeling like a fraud is a part and parcel of building a business. We all struggle with this from time to time - even celebrities who we look up to feel like this before a big performance. The key to success then is to keep going, push forward and push past the doubts. It's all in your head!
Communication is key
Communicate constantly with your staff and your clients. It's essential to a happy, smooth running business. Communication is what brings clients back. It's a basic human need! Take the time to sit down and find out what they really want, and make them feel comfortable enough to point out when they want something different.
Don't focus on your competition
Be aware of your competition and the marketplace around you, it's important to understand what happening in your industry and where you fit into that picture. Everyone should focus on running at your own pace, you've got to do what's right for you. If your focus is outside of your business, and what others are doing and you're bogged down in FOMO - your business will never grow!
Retention & Online Booking
Getting wrapped up in clients rebooking before they walk out the door is so-last-year. How our clients manage their time has changed - smartphones have changed this so drastically that it's now time to focus instead on your client retention rate.
As your clients leave the salon, you want them to feel happy and less pressured - if you do a great job during their service they keep returning time and again. If your client retention rates start to fall, you should start questioning and re adapting your client service delivery strategy.
That brings us to providing an easy, simple to use online booking experience for your clients - it's about making it easy for your clients to do business with you, after all!
Check out Timely Salon Software - it's easy to use, it will keep you synced with your appointments on the go while making it easy for your clients to book with you.
And finally, Jaz reminds us not to try to rush life or business - life is busy and pressured enough.  Everything will fall into place when as meant to.
LISTEN TO HER INTERVIEW ON THE PODCAST - SHE SHARES HER JOURNEY AND LIVELY ENERGY! I KNOW YOU'LL LOVE IT. CLICK BELOW