Rock your salon using these 3 social media tips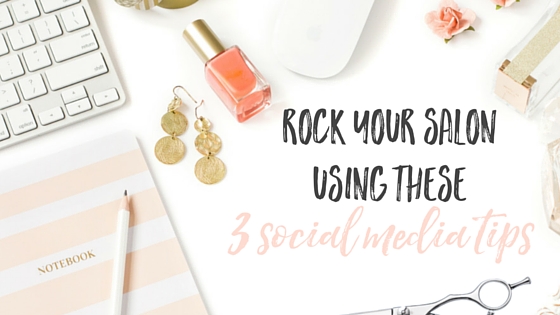 Social media is a fantastic way to get more people knowing about your salon. Platforms such as Facebook and Instagram work really well for salons, they are very visual so you can post high-quality pictures to bring your brand to life.
Knowing what to post onto your social media to have the most impact on your business can seem daunting at first. It's important that you don't just post randomly, but instead, think about each post and how it will drive your business forward.
When you're busy running your salon and seeing to the needs of your clients, social media may be at the bottom of your list of priorities. However, it is important that you consistently post on your chosen platforms in order to keep them current and to encourage followers to visit your website and salon.
It doesn't need to be time-consuming. If you can set aside just 30 minutes each day to check-in, then you'll be doing more than a lot of your competitors. There are some useful free tools such as Buffer and Hootsuite which will help you to save time. You can use these tools to schedule a few updates to go out at intervals throughout the week. This is a great way to keep your online presence fresh without having to spend hours every day on there. Have a look at our resources page for links to our recommended tools.
Here are our suggestions for what to post on your social media
What's happening inside your business
When you give your followers a peek behind the scenes of your business, they will feel like they really know you, making them much more likely to actually visit your salon to have their hair done. Posts which work really well are those which introduce your team, the human touch to your brand. Also, pictures inside your salon showing the atmosphere and ambience are a great way to encourage more people through the door.  Before and after shots of your clients are a fantastic way to showcase your work and the expertise of your staff.
A look at the fashion industry as a whole
Salons which do this really well act as curator of what's happening in the wider fashion world. By sharing posts about the hair fashion industry, and talking about current trends, you'll show that you have your finger on the pulse. Bang Hair in York does this particularly well on their Facebook page, sharing fun videos and posts which will get their readers attention and get people talking.
Post to send followers to your website
It's a good idea to think about the reason why you're posting on social media, and the action you would like your followers to take. At the end of your posts, you can include a sentence encouraging readers to take this action. This could be to comment and start the conversation with you, or to click a link back to your website. Ultimately the aim is to get people to book an appointment at your salon. You can do this in several ways:
Online booking – let people know that they can book an appointment online and give them the link to do so
Read our blog – Your blog is a great way to bring your brand to life. If you include snippets from your blog on social media, you'll pique readers interest and encourage them to click to read the whole article.

Customer reviews – posting links to customer reviews is a great way to encourage people to choose your salon because they can see that others have been happy with your service. You can do this in two ways – by posting the testimonial directly onto social media, and by posting a link for people to read the full review. You could even include case studies write-ups with your before and after images, a really powerful way to build on the 'know, like and trust' factor so important to consumers these days.