3 Keys To Work On Your Business, Not In It!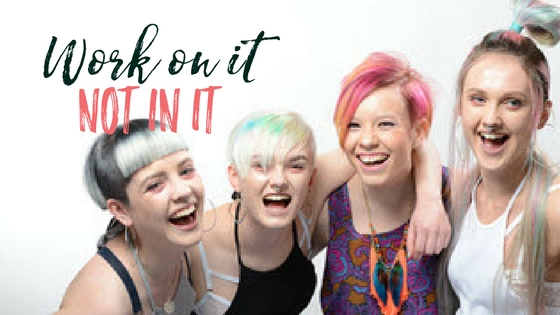 For many salon owners, the thought of passing over your clientele to spend more time on business building can be fraught with fear and uncertainty, but if you take the important jump of stepping away from the busy work of your salon floor, your business is bound to benefit.
Janine bought her first salon aged at just 24, and is the master of working ON her business, not IN it. She has set up her most recent salon and built her team strategically, with this objective in mind. She now only spends around 7-8 hours a week in the salon itself, with an awesome team in place to manage the day-to-day operations.
Over the festive period, when previously she would have been run off her feet, Janine was able to confidently step away from her salon and really enjoy the holidays with her family.
Janine and I chatted on the Podcast and talked about the 3 key ingredients to making such a successful transition away from the daily tasks!
If you focus on making your team, your clientele and on having clear systems and structures, your business productivity and profit will be sure to increase.
If one of the key reasons you set up a business was help you achieve that all-important work life balance then these 3 tips a must for you...
1. Celebrate Your Salon Team
Take the time to grow, engage and nurture your team. It's hard running a team and the more you put into helping them grow, the more you're going get back, particularly with the younger stylists.
Pay attention to how the industry and working environment has changed in the last ten years rather than reminiscing on days past - trying to force a square peg into a round hole just isn't going to cut it. It's important to break the cycle and be innovative and accommodating. If you change your mindset so that your team become your main clientele, the way they'll look after your business and the things they will introduce to build your brand will be profound.
It's not your way or the highway!
Don't hold your staff back purely because of their age or lack of experience. Encourage your team and let them flourish and grow, and your salon will flourish and grow.
Once your team know your core values and vision, let them run with it, give them the scope to really engage and grow their role. It's important you maintain your trust in your team and nurture their skills. Having systems and good communication channels in place will enable this to happen smoothly.
2. Share Your Vision and Business Goals
Make sure you're all on the same page and that the ship is sailing in the right direction. Businesses change due to the economy, team dynamics and innovations. When faced with such change, make sure you're open with your team in order to keep them on the same page, whilst staying true to the core values of your business.
If they're part of the evolution of your vision, which you create together, this will be far easier for you to achieve. Everyone on your team should actively and openly understand any changes ahead.
Communication within a salon
In a packed-out salon environment communication becomes more important.  Some ideas which Janine has set in place are:
Hold a weekly team meeting to build the culture and team vision.

Each team member has a one-to-one to discuss their personal progress within the vision.

Have strong KPIs in place (Key Performance Indicators) so that everyone knows what they are out to achieve.

Have a 15 minute huddle each morning, celebrate and look at the day ahead. This keeps everyone on track and ensure any issues are ironed out from the start.

Set up a Secret Facebook page for the team - Everything from funny thoughts, to information about what's going on each day in the salon.
3. Embrace Technology and Social Media!
It's a useful tool and not scary! Social media is much more simple than it's often perceived. Remember it's just as new to everyone as it is to you, so it's vital to get amongst it!
The marketing side of social media is great for any salon business. Build your brand presence online and always keep your target market in mind. It's important you put accross the right message and brand persona to encourage the right people to your salon.
Taking the old way online
This is a great way to simplify the marketing process. Often online marketing tactics are no different to the old way, they are just re-packed in a new way. So, for example, you can offer the old loyalty cards and refer a friend vouchers still but just do it on the social platform. This gives the incentive to share and the reach is far larger, and far cheaper than a printed referral card.
Social Recruiting
Whilst you can use the regular recruitment sites, social media can be a great way to find new team members. Share on Facebook and Instagram, and even consider a sponsored advert to further reach potential staff. This is a very cheap way to advertise and a highly effective way to reach even more potential staff.
I caught up with Janine for a good old chat where she shares even more on working ON your business rather than IN it! Click below to head to the podcast for a listen.