The Importance of Mission and Vision for Salon Team Culture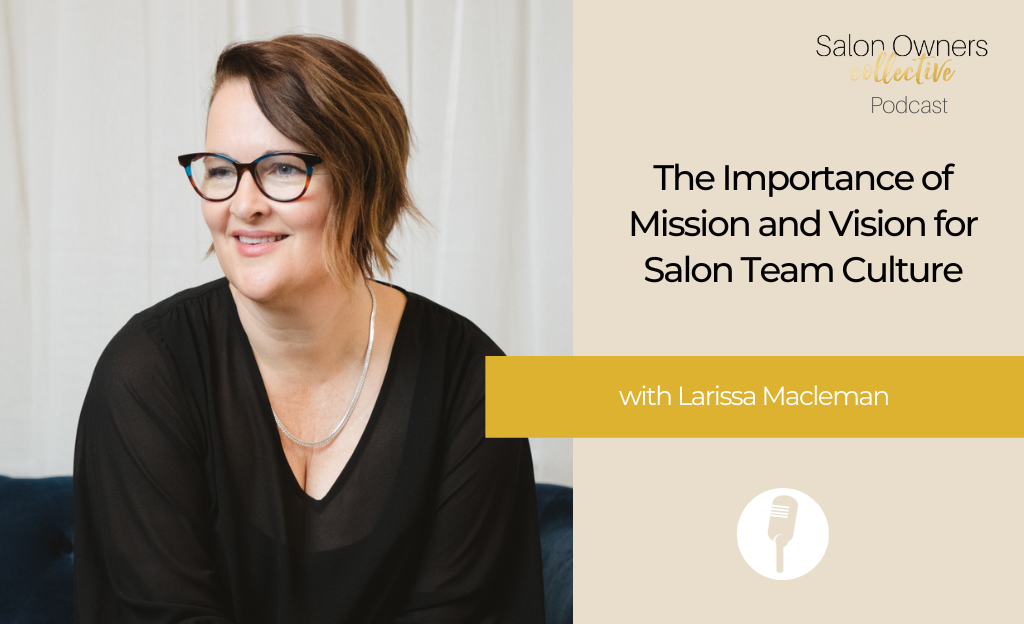 One thing I've noticed working with Salon Owners is that a lot of them will tell me that they don't have a mission or vision for their business.
But it's not that they don't have a mission and a vision – of course they do. Because if you have a business then of course you have a why.
And your why is essentially your mission and vision!
Why you're here, doing this thing.
So when Salon Owners tell me that they don't have a mission or a vision what they really mean is they don't have a DEFINED mission and vision that they can communicate to their team.
It's so important to have this because your mission and vision not only create unity within your team…but also give your team members a glimpse into the future. And like I always say – team members leave when they can't see a future with you.
But how do you get your team to connect with YOUR vision? How do you make YOUR vision relevant to them?
In this episode of The Salon Owners Collective Podcast I reveal the fundamentals of how to define and communicate your mission and vision and how to use team workshops to involve your team in setting the values that will be critical to living that mission and realising that vision.
Here are three reasons why you should listen to the full episode:
Learn how to define your mission and vision and communicate them with your team.

Identify your salon values and what they look like using 3 real-life scenarios

Discover a workshop structure that will get your team involved, engaged and invested in your salon mission and vision.
Let's chat…
I'd like to chat with you a bit more about your business and how I may be able to help you. Just click here to jump over into Messenger & chat!
Salon Mastery
Achieve Salon Growth without overwhelm or overworking – it is possible!
Salon Mastery is a coaching program that provides you with the tools & support you need to build a profitable & successful Salon. No more winging it!
Together we'll build a 9-part business strategy for your salon with your own dedicated success coach to lead you toward Success. The Salon Mastery HUB delivers Strategies, Done-For-You, Masterclasses, workshops & more. Live Salon-Growth Workshops with Industry Experts & Coaches Access to a close-knit community of Salon Owners so you never feel alone
Click here to apply for Salon Mastery Coaching now.
Salon CEO Business Secrets
Join over 5,500 industry experts and Salon Owners, and gain access to my Salon CEO Business Secrets in my Profitable & Successful Salon Owners Facebook group.
– Inside, you'll get access to exclusive strategies and done-for-you templates that I don't share anywhere else. And you can ask me and all of the other Salon Mastery Success Coaches your burning salon business question! Plus, you'll gain an amazing community of supportive and like-minded salon owners who really understand you, and want you to succeed as much as I do
CLICK HERE to join