Start Competing for Your Team's Attention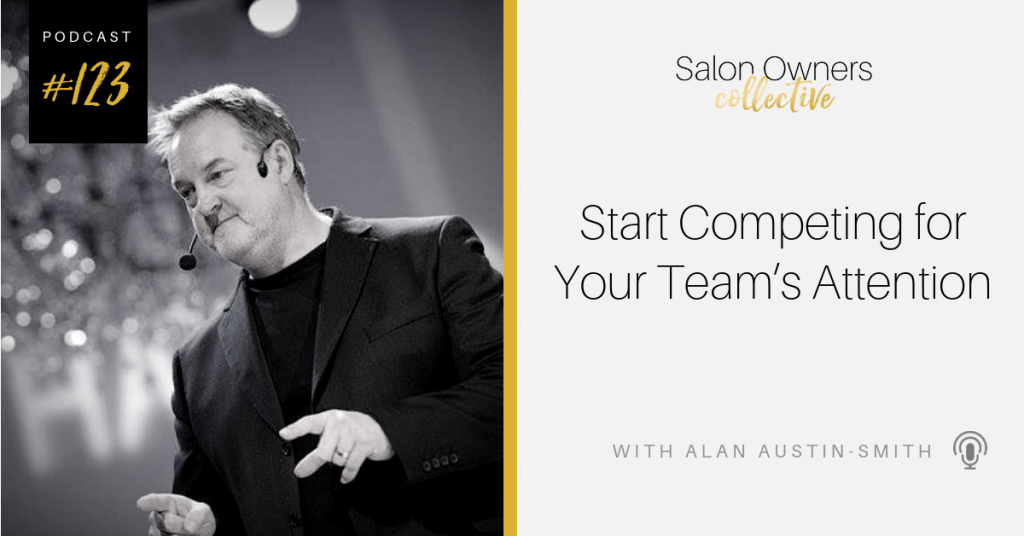 As a Salon Owner, managing your staff can be ever so frustrating, not to mention attracting new staff and keeping them around. It feels like they just don't have the same passion that you did when you were just starting off!
It's so easy to sit around and blame them for not wanting to work with you… But after a while, I think you have to stop and ask yourself- "what could I be doing better?"
In this episode, I'm talking to Alan Austin-Smith. Alan is a Salon Owner turned author and motivational speaker, whose company 'The Fantastic Hairdresser' is all about why being GOOD simply isn't enough anymore- you need to be fantastic.
Alan and I chat about why it's actually your opportunity, as a Salon Owner and Boss, to spark a passion within your team, and how to engage them so that they can fall in love with the Industry, and your Salon, just like you did.
Essentially, it's time to start thinking about what you could do better. Alan gives some super helpful tips on how to attract and keep young stylists on board, and how to change people's minds about the Salon Industry.
In this episode you'll hear about:
How to spark passion within your Team
Differences between being a good hairdresser and being fantastic
The importance of customer service and experience
Changes that are happening within the Salon Industry
Taking responsibility to engage your team
How to think creatively within your job
Recommended Links
CLICK HERE to check out Richard Reid's book- If I Could Tell You Just One Thing
CLICK HERE to find Sam Mcknight's Instagram
CLICK HERE for Sally Montague on Instagram
CLICK HERE to check out Sally Brooks' Instagram
CLICK HERE for Visible Changes' Website
CLICK HERE for Alan's Instagram page
CLICK HERE if you're interested in The Fantastic Hairdresser on Instagram
CLICK HERE for The Fantastic Hairdresser's Website
CLICK HERE to join the Salon Owners Collective Facebook Page