Not "Just a Hairdresser" – Beating the Odds to Reach Salon Mastery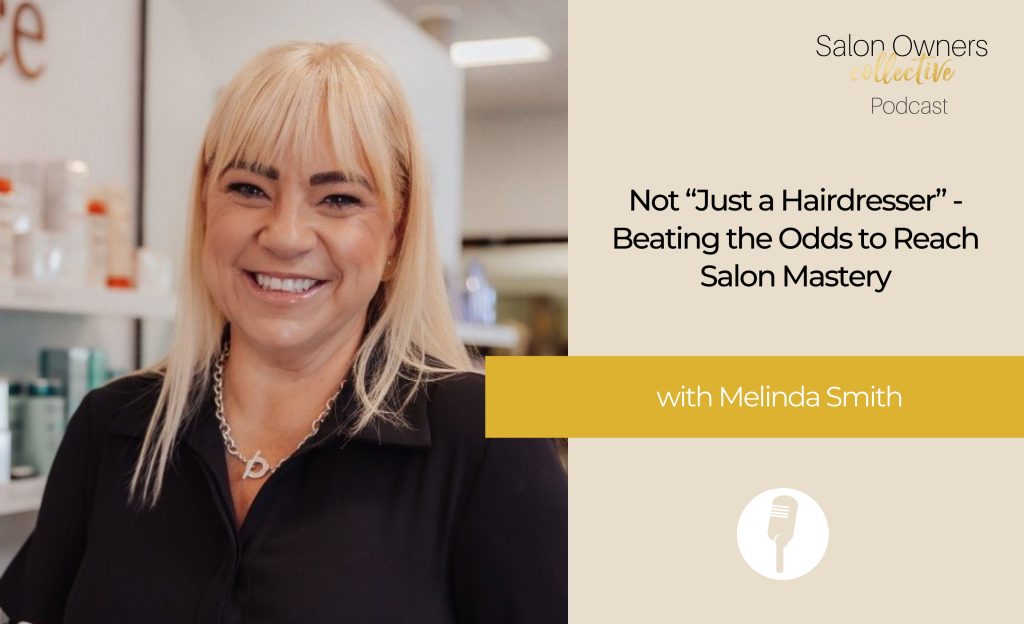 Business Ownership can be lonely…and the reality is that your business can feel like it's your entire life. Without it, who would you be? 
You spend more hours in the day in your business than you see your partner, family, or friends. And whilst this is never the intention, you feel it's just what has to happen to ensure everything gets done; putting out the team fires, the admin jobs, rebooking clients, marketing, cleaning, the list goes on!
Who else is going to do it like you can? 
Then you get home at the end of a busy day, you're exhausted, the kids are wanting to spend time with you, you have to help them with their homework or take them to their swimming lesson… but you can't switch off and stop thinking about the salon, and worse, you feel guilty for spending time away from your business. 
I know this well, this was me for years on end.
In this episode, I want to introduce one of my dear friends, Melinda. Melinda and I have worked together inside Salon Mastery for many years now and she has completely turned her business around from "being in the trenches" (we cried together on our first call) now her Salon is thriving in her newfound role as Salon CEO. 
Melinda started her Hair Salon, Ginger & Spice, with no clients, no team, and no experience in running a Salon. Now, with a thriving team – she has 6 stylists, Melinda spends 99% of her time working ON the business, leading from the front, and installing new initiatives for the team and business to thrive.  She is off the floor, & has never been happier. 
Keep listening as we dive into the topic of how to create freedom in your business to grow and in life as a Salon CEO, once and for all… without overworking or overwhelm. 
Here are three reasons why you should listen to the full episode:
Discover how to become a Salon CEO without working more hours in your business

Get a total insight into the magic behind Salon Mastery 

Learn how to switch off and create a life away from your business whilst still seeing success
Inner Salon CEO Snapshot:
CLICK HERE to get your hands on it
Let's chat…
I'd like to chat with you a bit more about your business and how I may be able to help you. Just click here to jump over into messenger & chat!
Resources:
CLICK HERE to join the Profitable & Successful Salon Owners Facebook Group