How to Become a #MarketingBoss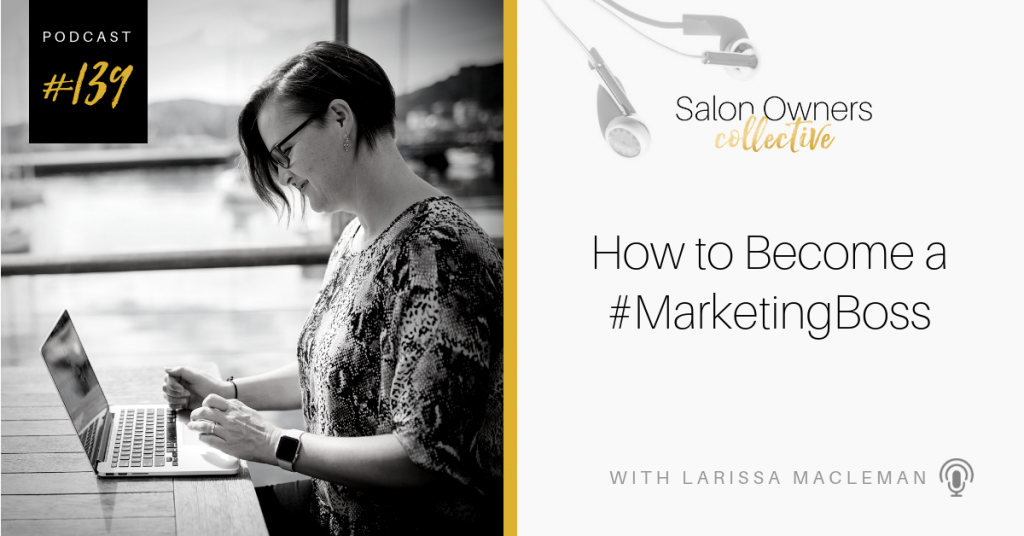 It's time.
It's time to stop and ask yourself, once and for all…
How effective are your Social Media marketing efforts… really?
How much effort do you put into Social Media marketing… really?
Do you have a clear plan, a strategy… when it comes to Social Media marketing… really?
Luckily, in this episode of the podcast, I'm going to provide you with 5 foundational steps which you need to be nailing in order to say you're a #marketingboss!
There's no quick-fix when it comes to marketing online. I see so many Salon Owners looking for a one-off solution… but in reality, this just means a one night stand!
What you really need is something more long term… it's more like a marriage, or learning to drive… you need to work on it over time to get it perfect!
So listen in to this podcast to hear how, and then come and chat with me if you're ready to take your business to the next step.
In this episode, you'll hear about:
[0:00]- My question to you
[5:10]- Marketing: it's like dating
[11:00]- My 5 Step Strategy
[14:58]- Step #1: The Attraction Formula
[16:41]- Step #2: Creating & Planning your Content
[17:40]- Step #3: The Know-Like-Trust phase
[22:15]- Step #4 Get em' in Your Chair
[24:30]- Step #5- Delight and Retain
[26:00]- The 4/90 rule
[27:30]- Turn Likes into Bookings
Recommended Links
CLICK HERE to check out our Podcast on Spotify
CLICK HERE to read more about this topic on the blog!