Keeping it Real- Growing Your Salon and Nailing the Juggling Act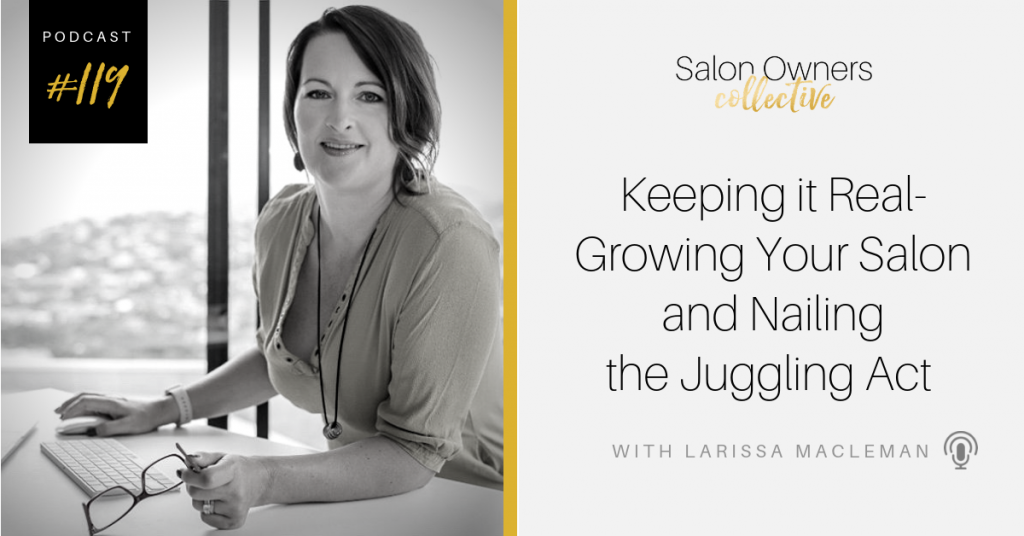 Podcast: Play in new window | Download
The life of a Salon Owner is so multi-faceted. Not only do we have our businesses to look after, but we have personal responsibilities, and on top of that, we need to look after ourselves.
In this episode of the Salon Owner's Collective Podcast, I answer questions from you, Salon Owners listeners. I talk about letting go of some of the responsibilities within your Salon, in order to work on growing the business, and juggling #Mumlife with business life. You also asked for a sneak peek into "day in the life of Larissa!"
When it comes down to it, we all need to implement some level of balance and perform some sort of juggling act within our lives. Whether or not you're a Business Owner and Mum like myself, I give you permission to let go of trying to always 'do it all'.
So, be sure to tune in to how to gain clarity within your business so that you don't have to wear all the hats, and how doing so can make the juggling act a little less complicated.
In this episode you'll learn:
Where to start when you want to step back and grow your Salon

How to relinquish control within your business so that you have time to work on your business

Ways to gain clarity about the direction in which you're moving

Fundamental steps to follow in order to succeed

All about juggling #Mumlife with Business life

Tips on working smarter not harder

What a "day in the life of Larissa" is really like