Does Increasing Your Prices Make You a Better Salon Owner?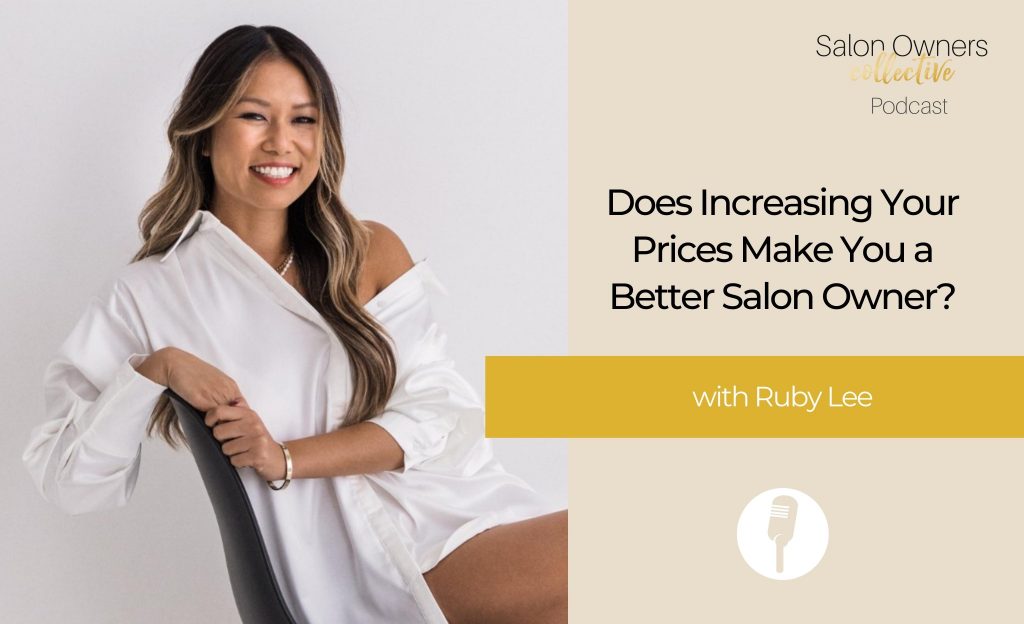 Does self-doubt stop you from increasing your salon's prices?
You know deep down you need to put your prices up, but the thought of asking your clients to spend more just feels so daunting. 
What if they push back? What if they leave and never come back because they can't afford your services? How will you equip the team to handle these objections… when you feel nervous about it yourself?
Honestly, if this is you, then know that you aren't alone. I know this is a huge challenge for so many owners. 
But in reality, this holds Salon Owners back from success…and reaching their full potential.
Instead of feeling confident about your experience and your Salon's prices, you instead have this overwhelming urge to compare yourself to other Salons, to discount your services, to apologise before anything has even gone wrong, all due to the fact that you're worried that if you don't, that client will go elsewhere.  
This is why I want to introduce Ruby Lee, a wealth & expense business coach helping business owners shift their mindset to "I can" & "I will" instead of being a roadblock to their own success. 
Ruby will share her strategies for getting comfortable with your numbers and profitability, so you can back yourself in moments when you may be doubting yourself or feeling insecure (because let's face it, we all have these moments!) and continue to grow your million-dollar Salon.
Discover the REAL reason why so many salon owners feel too scared to raise their prices, and how to combat this in your salon, once and for all. Uncover your true worth and potential as a business owner, so that you can feel confident with your decisions, and truly grow your profit to its full potential…
Here are three reasons why you should listen to the full episode:
Discover the real reason why so many Salon Owners don't raise their prices

How to overcome the fear of putting up your prices in your Salon

Learn how uncover your true worth & potential as a business owner
Inner Salon CEO Snapshot
CLICK HERE to get your hands on it
Let's chat…
I'd like to chat with you a bit more about your business and how I may be able to help you. Just click here to jump over into messenger & chat!
Resources:
CLICK HERE to join the Profitable & Successful Salon Owners Facebook Group
CLICK HERE to follow Ruby on Instagram
CLICK HERE to check out Ruby's website
CLICK HERE to listen to Galadarling Podcast 
CLICK HERE to listen to Ruby's Podcast Richuals