Creative Sanity Tips for the Wondering Holiday Mind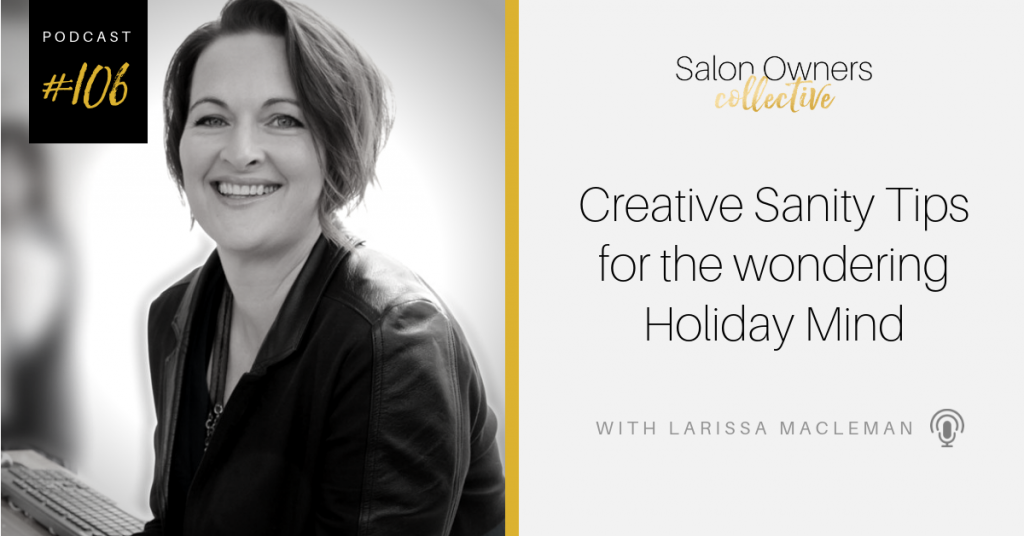 Podcast: Play in new window | Download
"It's when Salon owners have clarity of their path that they have their best life, their best business and have the strength to navigate the gauntlet of business."
Join me, Larissa Macleman for our last episode of 2018 where I talk about holiday creativity, getting clear on your goals and stepping into a change of pace which allows you to plan and think.
My three sanity tips will allow you to go into this holiday period with a clear head space to get Sh!t done and create those realistic business goals needed for 2019.
As you listen in to this episode, you'll learn:
3 Sanity Tips to keep you sane over the holiday break

A Change of pace for the mind

Getting clarity on your vision

Getting out of your own way

Start small if it feels like a constraint
RECOMMENDED LINKS
CLICK HERE to Connect with Larissa on Facebook
CLICK HERE to Message Larissa 
CLICK HERE to follow Salon Owners Collective on Insta
CLICK HERE to check out the Salon Owners Collective Website
ADDITIONAL RECOMMENDATIONS AND LINKS

If you want to learn about creating MORE Freedom and MORE Profit within your life and business, how salon owners move from stressed and overwhelmed to more Freedom & Profit, then download the Salon Owners Collective Freedom & Profit Guide Now!
Join the Free Salon Owners Collective Community Facebook Group wherE we will help you with moving toward Freedom & Profit within your Salon.