Christmas Countdown Week 12 & 11: Christmas Party Ideas Plus all Things Rosters, Bookings and Opening Hours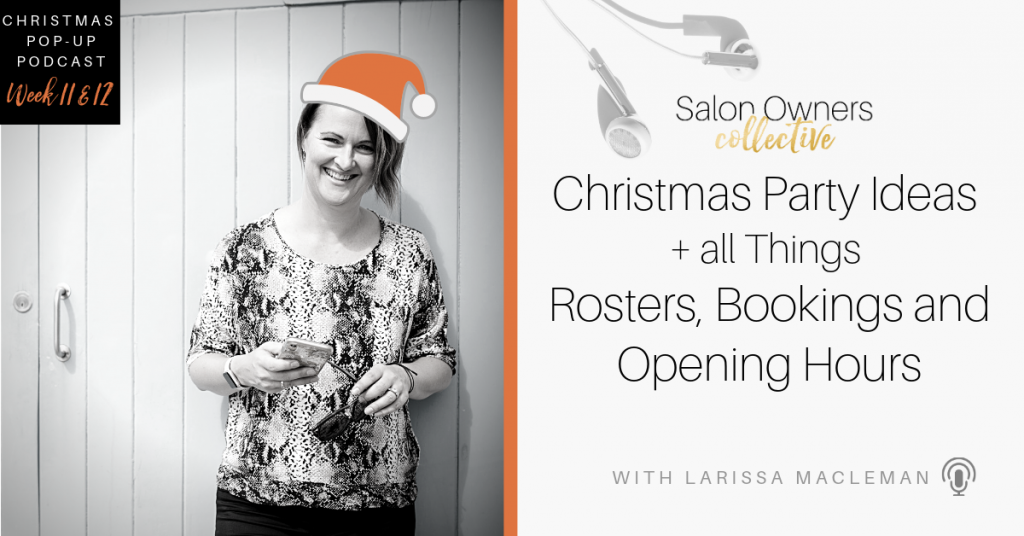 I think pretty much every Salon Owner can relate to this… can you?

Every client you ever have looked after wants to come in the 3 weeks leading up to Christmas!
I get it, it's super stressful! 
Clients are booked back to back and squished up, resulting in your team often double booking and life getting MESSY in the salon. 
In the first episode of my Christmas Pop-Up Podcast, I will tell you how you can make the MOST of the busy season without going insane (or your team going insane)… 
PLUS I'll chat all about my best Christmas Party Ideas! Coming up with a fun, new idea for a Christmas Party that your team will LOVE can feel tough… especially when you have to do it every year! 
Well, don't worry, because I've got you covered this year! 
Tune in now to hear my top tips.
Recommended Links
CLICK HERE to get your Rosters, Bookings & Opening Hours Action List for Week 12
CLICK HERE to get your Christmas Party Idea Vault for Week 11
CLICK HERE to sign up for our Christmas Countdown
CLICK HERE to check out our Podcast on Spotify
Chat with me
CLICK HERE to chat with me more about my Program