Cash in on Christmas – How to Make More During The Silly Season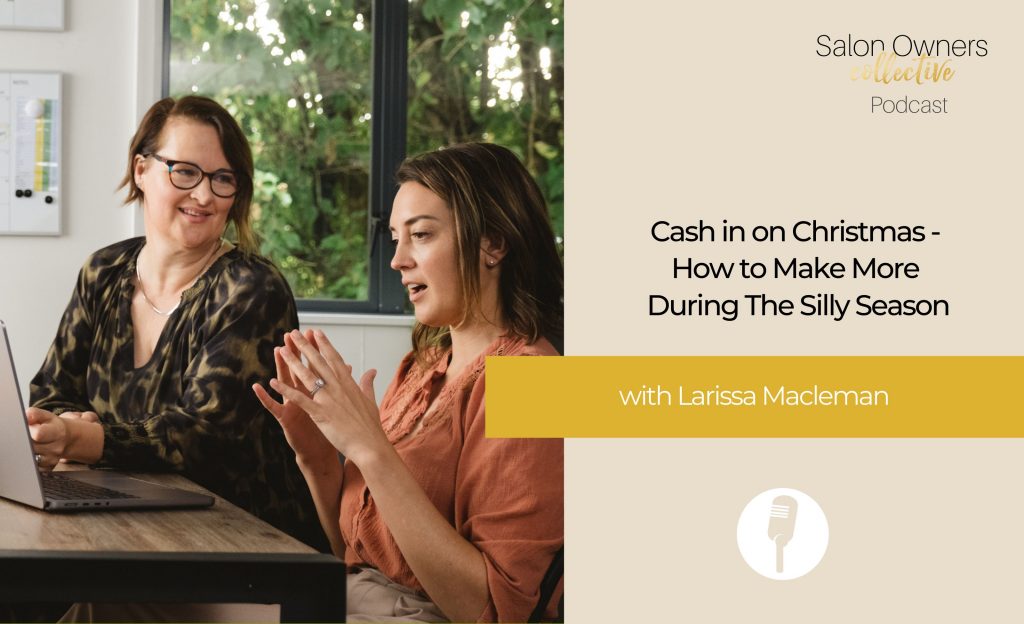 Did you know that people spend on average 30% more during the Christmas season? The psychology around Christmas spending is interesting, but the important thing to know is that people want to spend – they spend on their loved ones and they spend on themselves. 
So how do we make sure they spend in our Salons? How do we make sure we can have our piece of the pie – and eat it too? 
Today on the podcast I'm going to reveal 2 ways that you can cash in on Christmas – and maximise sales in your salon WITHOUT squeezing in any extra clients.
Here are three reasons why you should listen to the full episode:

Learn the number 1 mistake salon Owners make during the silly season

Find out the trick to selling gift vouchers in your Salon

Discover the secret of slowing down – to speed up. 
Let's chat…
I'd like to chat with you a bit more about your business and how I may be able to help you. Just click here to jump over into Messenger & chat!
Salon Mastery
Achieve Salon Growth without overwhelm or overworking – it is possible! 
Salon Mastery is a coaching program that provides you with the tools & support you need to build a profitable & successful Salon. No more winging it!
Together we'll build a 9-part business strategy for your salon with your own dedicated success coach to lead you toward Success. The  Salon Mastery HUB delivers Strategies, Done-For-You, Masterclasses, workshops & more. Live Salon-Growth Workshops with Industry Experts & Coaches  Access to a close-knit community of Salon Owners so you never feel alone 
Click here to apply for Salon Mastery Coaching now.
Resources:
Join over 5,500 industry experts and Salon Owners in my Profitable & Successful Salon Owners Facebook group.
– Inside, you'll get access to exclusive strategies and done-for-you templates that I don't share anywhere else. And you can ask me and all of the other Salon Mastery Success Coaches your burning salon business question!   Plus, you'll gain an amazing community of supportive and like-minded salon owners who really understand you, and want you to succeed as much as I do
CLICK HERE to join