How to Capture, Connect and Convert: Building a Relationship With Your Followers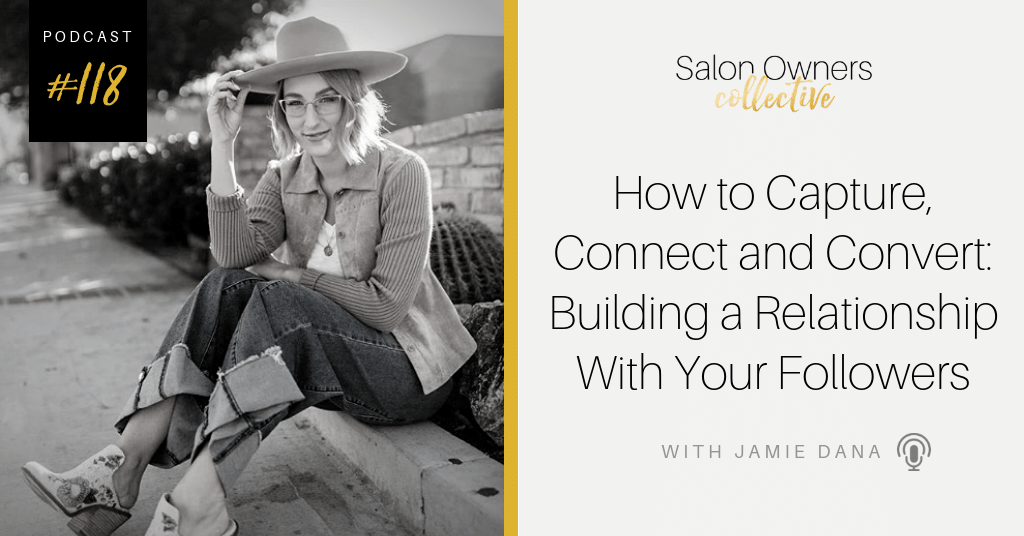 Podcast: Play in new window | Download
As social media dominates the Salon Industry more and more, it is so easy to get caught up in the world of followers, likes and comments. It is so easy to allow your perception of your own success, and others' success, to be skewed by Social Media. And it is so easy to forget why you're even posting and who you're even posting for.
In this episode of the Podcast, I am joined by Jamie Dana. Jamie and I discuss how to accomplish those goals that you have for your business by making use of the tools you have right in front of you. When it comes to Social Media, it is important to take a step back and remember your "why."
Today, Jamie tells us how to do that, and how to have fun with Instagram in a way that can be both beneficial for you and your clients. When you're having a dull, quiet season and you're constantly going uphill and against the grind, there is a way to come out on top. Make sure you tune in below to hear how.
In today's episode you'll hear:
How to rethink your approach to posting

Why simply being present on Social Media isn't enough

What to do to start a conversation with your followers

Ways to boost engagement with clients online

Tips for adding value to your content

All about remembering your "why"
RECOMMENDED LINKS
CLICK HERE to check out Jamie's Instagram
CLICK HERE for Jamie's Youtube channel
CLICK HERE if you're interested in Jamie's step-by-step Instagram Program
CLICK HERE to listen to Jenna Kutcher's Podcast- "Goal Digger"
CLICK HERE to buy "Profit First" by Mike Michalowicz
CLICK HERE for Mike Michalowicz's book "The Pumpkin Plan"
CLICK HERE for Amy Porterfield's Podcast- "Online Marketing Made Easy"