4 Steps to a Marketing Strategy That Works – Part 3/3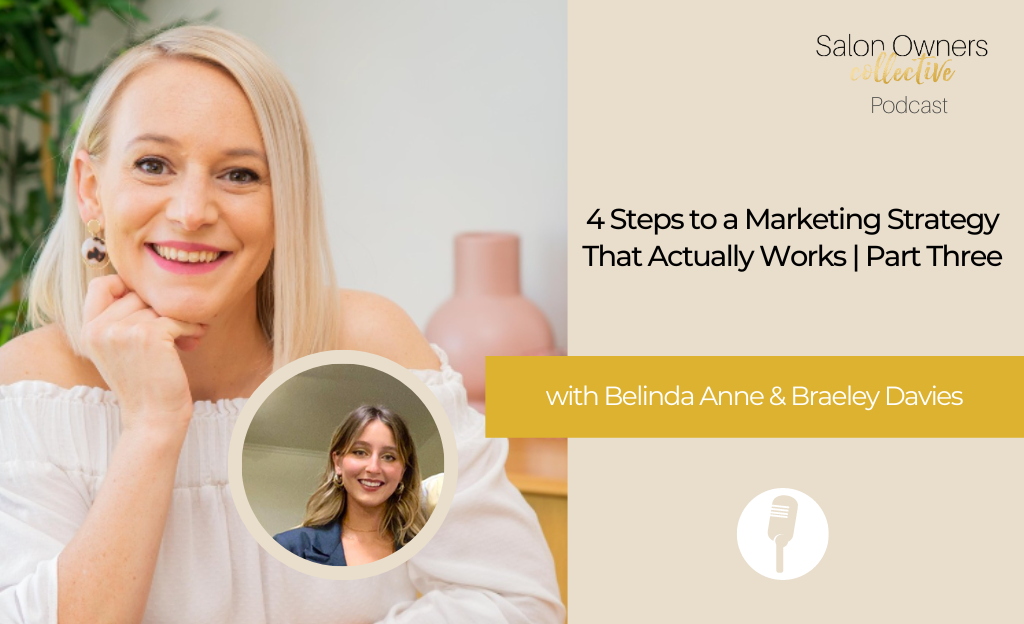 Do you feel rejected by social media? You put yourself out there (and it's not easy) and you sit by your phone eagerly anticipating the likes and comments only to feel like you've been stood up in a bar.
Maybe you've been doing all the things, and you've seen some success but you've hit a plateau and you don't know how to get that momentum back.
You try to work out whats going on so you make the weary journey into meta business suite to look at the numbers, but its all gibberish – what does any of it mean?
You feel defeated so you just go back to winging it, posting blinding with your fingers crossed.
In this 3 part series of the Salon Owners Collective Podcast, marketing coaches Bel and Braeley the 4 steps to building a marketing strategy unique to your Salon – so that you can attract your dream client AND get them from your socials to the salon chair.
Over the last two weeks we've revealed how to identify and attract not just any clients, but your dream client. Click here to catch up.
In today's episode, we're giving you the final piece of the puzzle – with the exact numbers you need to know to understand whether your content is working – AND what to do if it's not.
Here are three reasons why you should listen to the full episode:
KNOW YOUR NUMBERS: Understand what the numbers in meta suite are trying to tell you about how your content is performing.

Learn how to read your audience like a book – what to test and challenge to get a better understanding of how your audience responds to your content.

What you focus on will grow – find out the number 1 fool-proof way to increase engagement on your content
Let's chat…
I'd like to chat with you a bit more about your business and how I may be able to help you. Just click here to jump over into Messenger & chat!
Resources:
CLICK HERE to join the Profitable & Successful Salon Owners Facebook Group
CLICK HERE for our 10 marketing strategies specifically for Smart Salon Owners (that's you).