4 Steps to a Marketing Strategy That Works – Part 2/3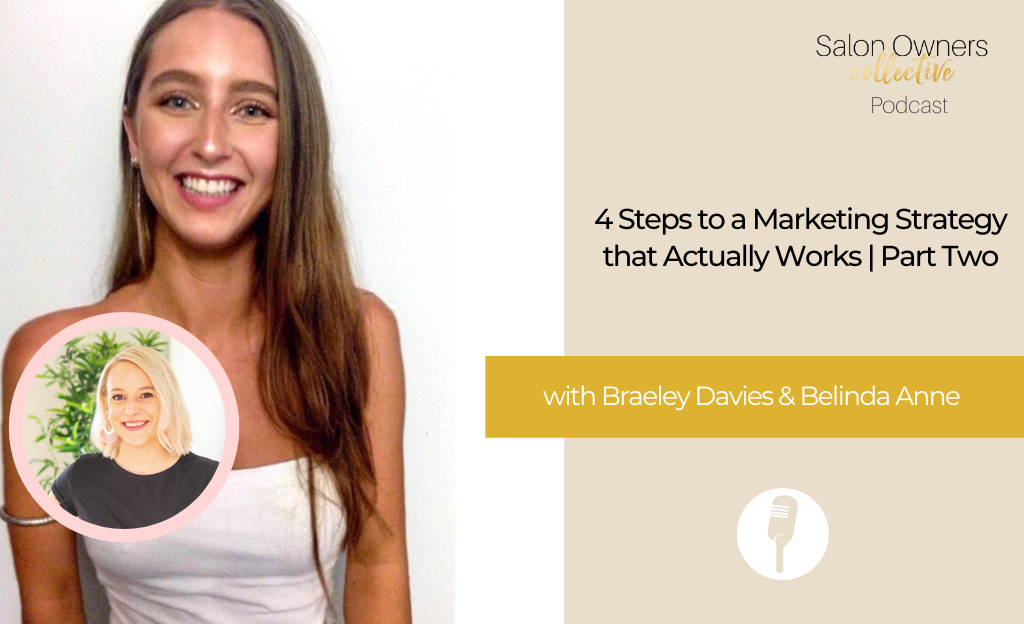 If you're feeling hoodwinked by social media – then this is for you. As a Salon Owner, you know the power of social media marketing but you just can't seem to get it to work for you.
You're posting content but it seems like a lot of work, for little reward. Why is no one engaging with it?!
You feel like there's no time, no hope and frankly, no point. So you just wing it – and hope for the best.
But deep down you know that what you really need is a strategy, right?
In this 3 part series of the Salon Owners Collective Podcast, marketing coaches Bel and Braeley the 4 steps to building a marketing strategy unique to your Salon – so that you can attract your dream client AND get them from your socials to the salon chair.
Last week we revealed how to identify and attract not just any clients, but your dream client. Click here to catch up.
In today's episode, we're diving into the final two steps to building a strong marketing strategy that delivers results for your Salon.
Here are three reasons why you should listen to the full episode:
Understand your client's buying journey – the questions they ask and the answers they seek from when they first lock eyes on your brand – to when they finally sit down in your chair.

Learn the exact type of content to communicate and nurture your client at every stage of their journey

Walk away with a easy to action marketing strategy that will deliver a consistent stream of new clients, while nurturing your existing clients, too.
Let's chat…
I'd like to chat with you a bit more about your business and how I may be able to help you. Just click here to jump over into Messenger & chat with me!
Resources:
CLICK HERE to join the Profitable & Successful Salon Owners Facebook Group
CLICK HERE for our 10 marketing strategies specifically for Smart Salon Owners (that's you).