3 Signs Your Salon Culture Needs a Reboot (And What To Do About It)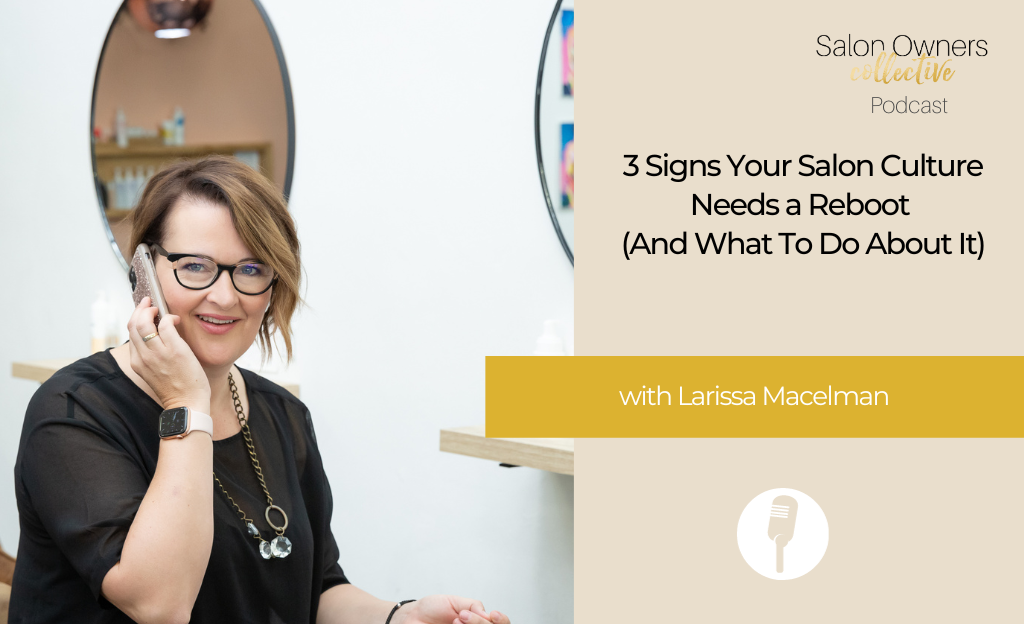 A business owners – and leaders of a tribe its so important to be able to recognise the signs of a broken or deteriorating team culture in your Salon.
Culture, whether intentionally designed or allowed to manifest organically plays a vital role in the success of your business.
And there are some telling signs that are often missed by Salon Owners, of a culture that needs attention.
And failure to recognise these things as symptoms of a larger problem will cause the problem to worsen over time.
I don't want that for you. Thats why today on the Salon Owners Collective Podcast I'm going to reveal the 3 signs that your Salon culture needs attention – and what to do about it.
Here are three reasons why you should listen to the full episode:
Find out the 3 signs (Salon Owners often miss) that your team culture needs attention

Discover the secret to banishing low morale, bad attitudes and unmotivated team members.

Learn the the 3 steps to building an empowered, exceptional, and intentional team culture
Let's chat…
I'd like to chat with you a bit more about your business and how I may be able to help you. Just click here to jump over into Messenger & chat!
Salon Mastery
Achieve Salon Growth without overwhelm or overworking – it is possible!
Salon Mastery is a coaching program that provides you with the tools & support you need to build a profitable & successful Salon. No more winging it!
Together we'll build a 9-part business strategy for your salon with your own dedicated success coach to lead you toward Success. The Salon Mastery HUB delivers Strategies, Done-For-You, Masterclasses, workshops & more. Live Salon-Growth Workshops with Industry Experts & Coaches Access to a close-knit community of Salon Owners so you never feel alone
Click here to apply for Salon Mastery Coaching now.
Resources:
Join over 5,500 industry experts and Salon Owners in my Profitable & Successful Salon Owners Facebook group.
– Inside, you'll get access to exclusive strategies and done-for-you templates that I don't share anywhere else. And you can ask me and all of the other Salon Mastery Success Coaches your burning salon business question! Plus, you'll gain an amazing community of supportive and like-minded salon owners who really understand you, and want you to succeed as much as I do
CLICK HERE to join