3 Reasons Your Recruitment Ads Don't Work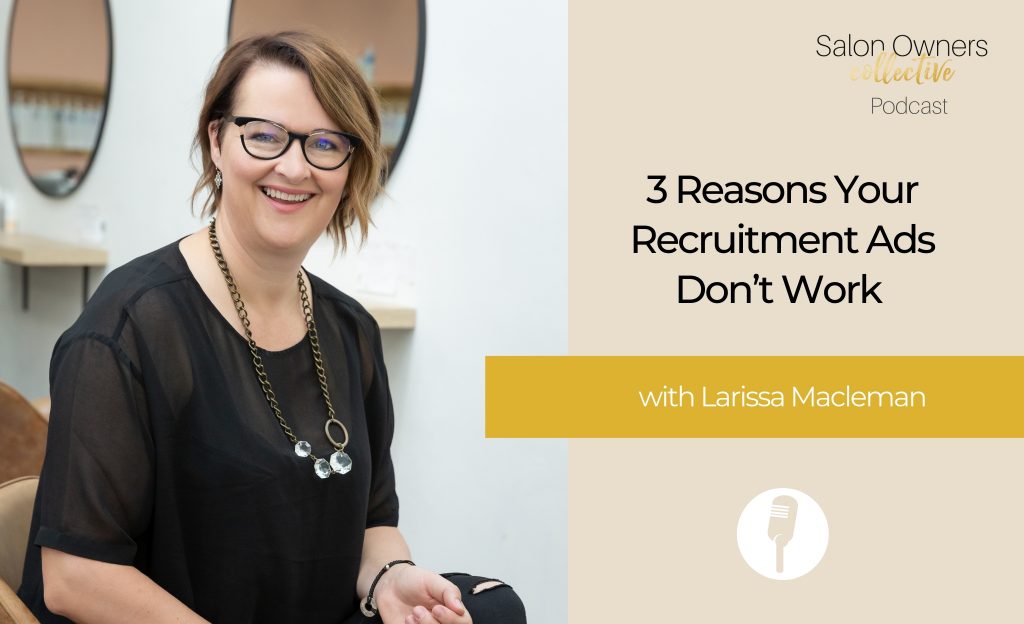 Isn't it frustrating when you're looking to hire someone new, but your recruitment ad gets 0 applications?
Every time you put an ad out, you think to yourself that 'this time will be different and you will finally get your dream team member applying to work for you… but in reality, the results are disappointing and totally uninspiring. 
This makes you feel like if nobody is showing any interest in your ad, then they most definitely are not lining up at the door to work for you. It can take a huge emotional toll on you as the Salon Owner. 
I totally know how this feels, and let's be real, it sucks…But in saying this, it is possible to find your dream Salon team in this climate, all it takes is the right strategies and mindset to know what you are looking for and what to expect. 
I went live in my Profitable & Successful Salon Owners Facebook Group all-around this topic, as well as introducing our brand new guide "3 Reasons Your Recruitment Ads Don't Work".

This podcast episode is a sneak peek into this live event as it was so valuable for Salon Owners that joined me, so I knew I had to share it with you.
One Salon Owner, Shantelle, received 15 responses to her ad within one week! And has already trialed her favorite applicant … all from using our Rockstar Team Hub strategies
Another Salon Owner, Erika, who used our done-for-you ads templates received 4 applications over just a couple of days.
And finally, Kelly, another owner, just hired a new senior stylist using the templates!
If you too want results, then keep listening to hear all about how to make killer team-attraction ads for your Salon…
Here are three reasons why you should listen to the full episode:
Get an insight into my Facebook Group and a step-by-step look into my guide. 

Discover how to attract your dream team to work for you with killer ads. 

Understand why your ads aren't attracting any applicants. 
3 Reasons Your Recruitment Ads Don't Work – Guide
CLICK HERE to get your hands on it (it'll take you to messenger)
Rockstar Team Hub
CLICK HERE to get access to the Hub
Let's chat…
I'd like to chat with you a bit more about your business and how I may be able to help you. Just click here to jump over into messenger & chat!
Resources:
CLICK HERE to join the Profitable & Successful Salon Owners Facebook Group