2022: The Year We Were Forced To Face Our New Normal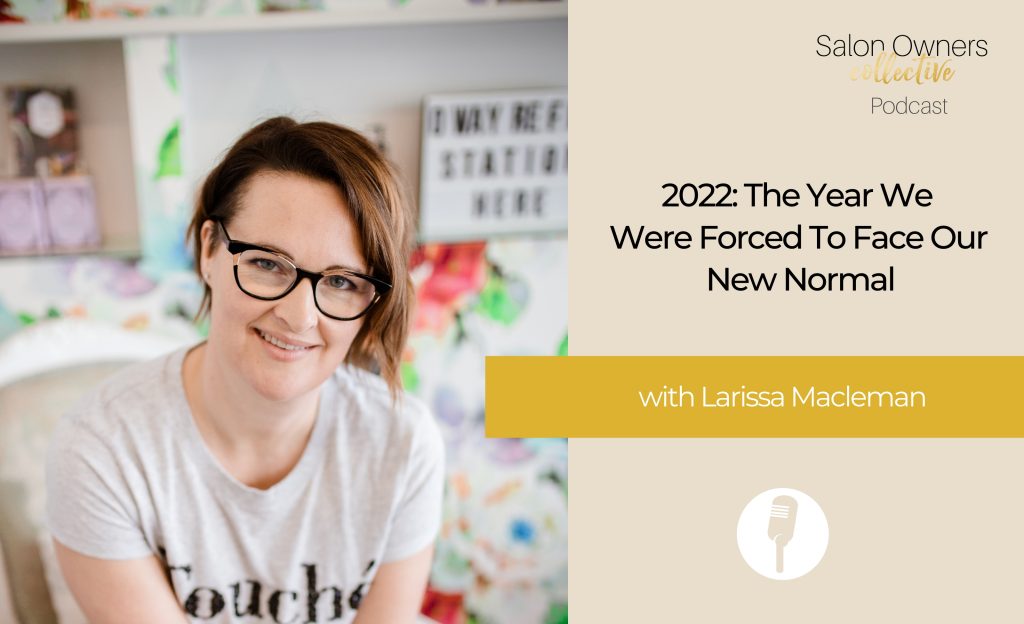 You've made it. 
This last year is just about to be done and dusted. You have tackled all the highs and lows that have been thrown your way – so it's time to celebrate! 
We rode the wave of trying to manage a growing team, and navigating a shift in lifestyle demands as well as increased challenges in attracting & hiring new team members!
You were able to ditch the masks in the Salon and greet your clients and team as normal. Events and industry awards were able to be held, and so many Salon Owners were able to reconnect with each other again! How good did it feel to be able to have a hug again?! 
As I share my top moments of 2022 in this episode, I would love to invite you to reflect on what your successes were in this last year. 
Why? To make the most of this upcoming year and, to truly level up your business, you must decide to be and do something different than you've been in the last year. 
If nothing changes, nothing changes… If you do everything the same as you did last year, everything will stay the same.
So in order to move forward, we need to be able to identify where you currently are in your business. 
Whatever it may have looked like for you, I would love you to take this moment to appreciate all you achieved in 2022! You have smashed it!! 
But, I know there is more inside of you! So, let's dive into my top moments of 2022 so that we can fully move into planning what we want 2023 to look like!

I am excited to share these episodes with you and the game-changing strategies that will help you enter a new year, full of new possibilities and opportunities as the Salon CEO! 
Here are three reasons why you should listen to the full episode:
How to make the most of the upcoming year and beyond as Salon CEO

Learn how to level up your business, by reflecting on the year that has been

Discover my top moments from 2022 and why they were the best!  
Inner Salon CEO Snapshot:
CLICK HERE to get your hands on it
Let's chat…
I'd like to chat with you a bit more about your business and how I may be able to help you. Just click here to jump over into messenger & chat!
Resources:
CLICK HERE to join the Profitable & Successful Salon Owners Facebook Group