10 Hiring Tips for Salons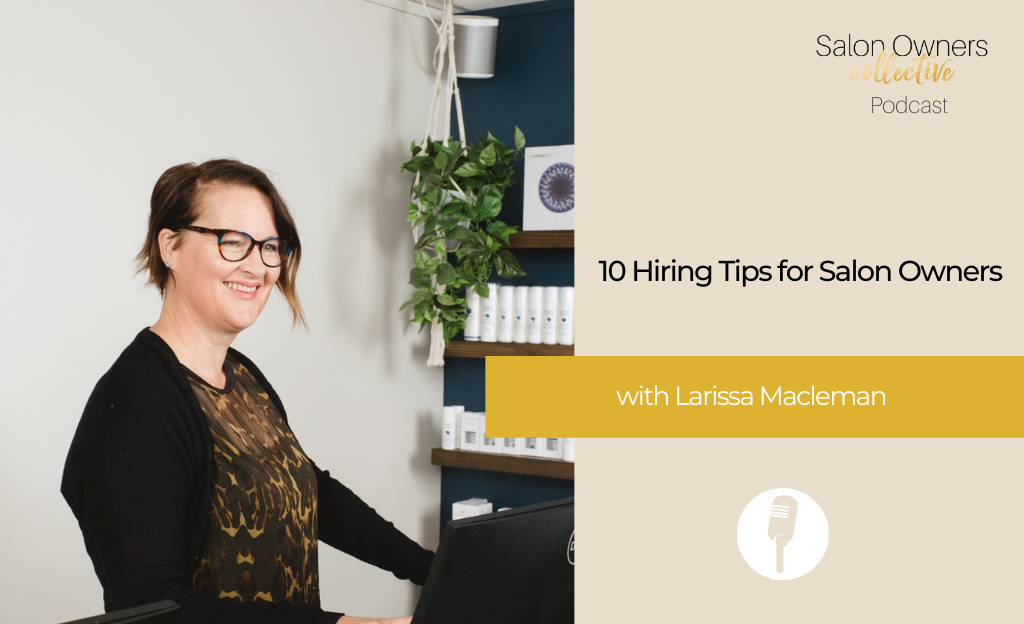 Do you feel like recruiting great staff, god – even any staff – in the hair and beauty industry is just getting harder and harder?
Do you reminisce on the good old days when you could just tape a sign to the window saying "We're hiring" and wait for your dream team member to walk through the door?
But now, the tides have changed – and it's not enough just to be hiring – you've got to be actively recruiting.
Pitching yourself as a great place to work for your dream team member so that she chooses you over the Salon next door. You've got to pull out all the stops – putting the right hiring messages in the right place at the right time – you've got to sell yourself to potential team members the same way you'd sell yourself to potential clients.
It sounds exhausting but it doesn't need to be, and it's a lot less exhausting than waiting for a miracle, right?
Today on The Salon Owners Collective Podcast, we're sharing our 110 hiring tips that will do just that – resulting in applications from your dream team member AND a hiring strategy that will future-proof your salon from those out-of-the-blue resignations that we can't predict – but we know are coming – whether its today, tomorrow or 3 months from now.
Here are three reasons why you should listen to the full episode:
Discover our 10 Hiring Tips that will flood your desk with applications from your dream team member

Create a hiring strategy that will futureproof your Salon from dreaded out-of-the-blue resignations.

Promote yourself as an employer brand – and become the Salon where the best stylists and therapists dream of working.
Let's chat…
I'd like to chat with you a bit more about your business and how I may be able to help you. Just click here to jump over into Messenger & chat!
Salon Mastery
Achieve Salon Growth without overwhelm or overworking – it is possible!
Salon Mastery is a coaching program that provides you with the tools & support you need to build a profitable & successful Salon. No more winging it!
Together we'll build a 9-part business strategy for your salon with your own dedicated Sucess Coach to lead you toward Success. The Salon Mastery HUB delivers: Strategies, Done-For-You, Masterclasses, workshops & more. Live Salon-Growth Workshops with Industry Experts & Coaches Access to a close-knit Community of Salon Owners so you never feel alone
Click here to apply for Salon Mastery Coaching now.
Your people are waiting for you…
Join over 5,500 industry experts and Salon Owners in my Profitable & Successful Salon Owners Facebook group.
– Inside, you'll get access to exclusive strategies and done-for-you templates that I don't share anywhere else. And you can ask me and all of the other Salon Mastery Success Coaches your burning salon business question! Plus, you'll gain an amazing community of supportive and like-minded salon owners who really understand you, and want you to succeed as much as I do
CLICK HERE to join now!